My computer friends are sharing their makeup before and after shots, and I decided to play along. Here's my before: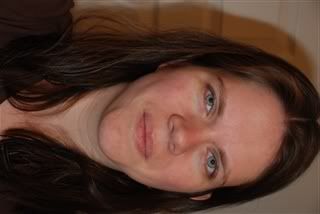 And here's after (with what Johnny is calling my "crazy hair"):
Now, if you know me, you know that usually my hair is just wash and go. Brush through it, put it in a pony tail, but not this curl mop. I did this with my flat iron just for fun. I have so much hair, it is difficult for me to do a good job of this on my own. Courtney's hair is super easy, it's so thin. I do hers all the time.
And as for the makeup, well that is something I really have only been doing for the last year or two on a consistent basis. I've almost always used mascara, but the rest was only for special occasions. Since Johnny was born, I've had this lovely splotchy skin. And I found some super easy to put on makeup (Bare Escentuals). Hides the redness and blotchiness. Love the stuff!